With so many people turning to the Internet every day, it stands to reason many of them will be looking for ways to work from home. If you type in the keywords 'how to work from home' you will see over 8 billion search results. That just shows you how much interest there is in this topic.

Of course with so much information it can be a bit overwhelming. Then the issue is trying to weed out the legitimate jobs from those that are just scams. You could start with Indeed.com and look for listings in your area to see what's available.
This article will offer up ideas as to the type of jobs that you could pursue so that you can make a true income from home.
First Things First
Before you even begin to start looking at work from home opportunities you want to sit down with a sheet of paper and a pen. Next you are going to make two lists. The first one will be your reasons why you want to work from home. The second will list your skills and interests.
So your list might me made up as follows:
Reasons to Work from Home:
Recently had a baby and don't want to go back to work
Got laid off and need to make a living a different way
Want to own and run my own business
Want to work part time and build up a retirement fund
Am looking for an additional way to earn some extra money
Skills List:
Great on the computer
Enjoy writing
Want to build websites
Enjoy making crafts
Love working with pets
Love to research and write reports
Types of Jobs and Businesses Available
Now that you're clear on WHY you want to work from home, you need to determine WHAT you want to do. This is where your skills list comes into play. You are going into this new venture for the long term so you want to be certain you are doing something you enjoy.
There are many ways anyone can work from home; here are some ideas to consider:
Virtual Assistant
Administrative Assistant
Customer Service Representative
Medical Transcriptionist
Writer/Ghostwriter
Craft Store
Party & Event Planner
Additional work from home ideas you might want to consider include:
Developing websites
Social Media Manager
Helping local businesses establish an online presence
Graphics Designer
Event Speaker
Coach/Mentor
Now let's take a closer look at a few of these opportunities.
Work from Home as a Virtual Assistant
If you want to work as a Virtual Assistant, you need to consider how you want to go about it. For example, you need to decide if you want to be an independent contractor or if you want to work for a company that matches your talents to those of a client's needs.
As an independent contractor you work for yourself, you set your own pricing, you choose your own clients. In reality, you'll be building your home business selling your services as an independent contractor. And, as such, you have the added responsibility of taking on all the tasks required to build, manage, and promote your online business.
If, on the other hand, you just want to work for someone else without the additional headache of building a business, that option is also available. Think of it as working for a Temp agency. As an employee of the company you will be assigned tasks to complete for the company's clients; you don't have to pound the pavement looking for clients.
The structure is in place, you just have to follow company guidelines and meet client's deadlines.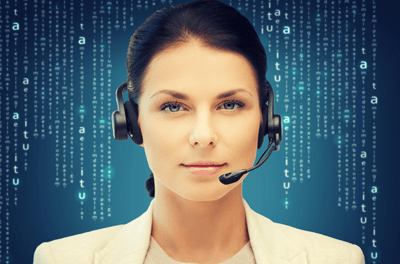 How to find work as a VA
If you are considering becoming an independent contractor, you need to create content; a portfolio of the work you provide. Then you need to build a website or blog so potential clients can learn about your work and about you.
In addition, you need to become active socially; become involved in online communities where your potential clients hang out. But, be careful not to spread yourself too thin when you're starting out.
The first rule of belonging to any online community is that you need to show up. You can't build relationships if you're never there. You also want to be authentic. Remember, you're hanging out with your potential clients. Always put your best foot forward.
If you want to work for a company, here are some to consider:
Upwork
Belay Solutions
Freelancer
Fancy Hands
Priority VA
Of course, there are more. You need to do your research. 30 Sites Offering Free Training for Virtual Assistants may be a useful resource to read. You can also check out this blog, The VA Handbook for additional information.
Tasks you can perform as a Virtual Assistant
Posting classified ads for clients
Online customer service
Affiliate Managers
Updating WordPress sites/writing blog posts
Managing and scheduling appointments
Video creation
Creating Power Point presentations
Transcribing webinars
Creating Social Media accounts
Posting twitter messages
Email management
Copywriting/creating sales pages
And the list goes on.
If you have multiple skills, you are in a position to offer a wide range of services to clients. A VA who can competently perform multiple tasks has great value to prospective clients. They know it's much easier to work with one person than it is to work with three or four people.
Work from Home Telecommuting
Many large companies today understand the need for their employees to spend more time with their families. To accommodate them many are now offering telecommuting as an option. This actually saves the company money as well as helping the employee.
The company requires less office space when they hire employees that telecommute. Not only does the company experience increased productivity, employees tend to stay longer.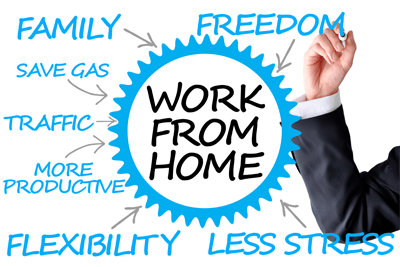 The employees benefit because they can work from home. Of course, employees who telecommute still need to adhere to company guidelines and get the job. However, they have the peace of mind knowing they are there for their family should the need arise.
Other benefits include saving money on gas and car repairs; they won't spend hours commuting back and forth to work. Then there is the cost of child and/or elderly care which takes its toll on the family budget. All of this can really add up to huge savings during the year.
If you work for a corporation, large or small, why not suggest that you telecommute if you wish to work from home. Once the idea has been presented they may be open to the telecommute method. You may only need to go into the office once or twice a week, if at all.
Offer Services to Local Business
Helping local businesses in your area establish an online presence is another way to make money from home. Small businesses recognize the need to establish themselves online to grow their customer base.
You can create a mobile-friendly website and create accounts on social media platforms such as Facebook, Twitter, Instagram, and others. You could create a company blog and keep it updated with sales, events, new products… whatever is happening with the business. Then send emails, when appropriate, to the client list to keep them informed.
You could do this as an offline marketing consultant to local businesses.
Start Your Own Service Business
You can take all the information you gathered from your research and decide if you want to start your own business. Even working as an employee for a company, you can still start your own business providing the same services. The difference being you'll have to generate your own customer base.
If so, then you need to take a closer look at start up costs and expenses. Do you have to purchase any additional software programs in order to open for business? Also, you may need to look into getting a business license and any necessary permits.
You must also determine how much income you need to earn each month and how quickly you need the money. If you dream of creating your own business writing and selling e-books, can you survive without a steady income until you get your books written? You definitely don't want to put your family in jeopardy while you're establishing your business.
Most people hang on to their day job until their home business reaches a level of sustainable income they are comfortable with or planned for. And, it's always a good idea to have savings set aside for those emergencies that invariably arise.

Build your website
Your business will require a website to feature the services you provide. You don't have to spend thousands of dollars on a website. Many online business owners use WordPress to build their website. With thousands of themes available you can easily find a suitable one for your business.
While the WordPress platform is free, web hosting is not. Nothing is live on the Internet unless it is hosted somewhere. Web hosting is a highly competitive service so it's extremely affordable. Just make sure you perform your due diligence when deciding on a web hosting service.
Once you have your website up and running, you will also need an auto responder service so you can capture the name and email address of your visitors. This is how you communicate with your subscribers and potential clients. There are many auto responder services available.
So, as with your web hosting service, perform your due diligence… don't sign up with the first service that pops up. You need to be careful here as you'll be building your subscriber list. If, for whatever reason, you want to change your auto responder service, you may find it difficult to do so. Check out several companies before you make this decision.
Will this be as easy as many say it is? No, not at all if you're new to this technical stuff. There is a learning curve and it will take time. If you find you don't want to tackle this yourself or if you become overwhelmed, you can hire a Virtual Assistant to help you set things up. See, even you will need the services of a VA or a freelancer at some point.
Conclusion
Now you know you have many options. If you want to work for someone else from home, it's not a pie-in-the-sky idea. If you want to start a business working from home, that, too, can become a reality. It's not an impossible dream; many people do it every day.
But, beware. As you surf the Internet you'll find plenty of claims of overnight riches at the push of a button. You just sit back and watch the money roll in. Don't believe any of that nonsense; you have things to learn in order to establish and grow a home business. It takes work and commitment; you just need to stick to it.
Best of luck!