Lots of moms and dads wish they could earn money working from home so they can be there for their children. Being a parent is probably the most challenging and rewarding job you'll ever take on. It isn't a 9 to 5 job; you don't retire after 20 years with benefits in the traditional sense. It isn't just a full-time job, it's a life-long job.
Yet, many parents miss out on the day-to-day achievements in their children's lives. Why? It's because they are working at a job outside the home. Between the commute and the office hours, they can easily spend 10 to 12 hours a day away from their children, 5 days a week.
If you find yourself in this situation, needing multiple incomes to pay the bills and hating that you're missing the most important years in your child's life, then maybe you should seriously consider ways you can earn money working from home.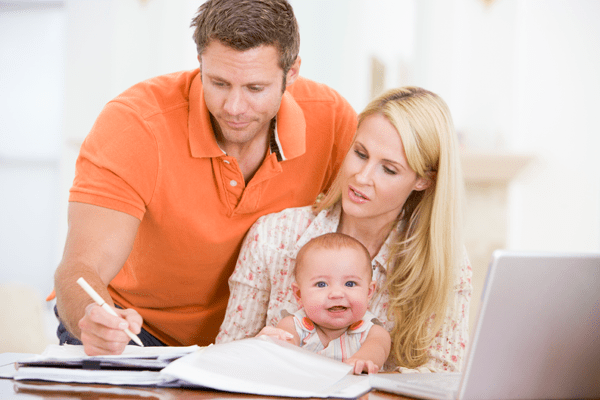 Ways to Earn Money Working from Home
There are many ways to earn money working from home; from consulting/coaching in your area of expertise, to blogging, to affiliate marketing. In this article, we'll discuss the option of becoming a freelancer. After reading this article, hopefully you'll come up with ideas of your own.
In this article we're going to talk about some of the different services you might be interested in offering as a freelancer. There are many services you could offer to potential clients. If you have the ability and the talent, you can make money with whatever you find most interesting.
Let's get started.
Earn Money Working from Home as a Writer
Writing is the first thing most people think of when it comes to freelancing. While it doesn't take a degree in English, you absolutely need to have a solid grasp of English spelling, grammar, and punctuation to take on at least basic writing jobs.
In fact, some freelance designers or programmers take on writing jobs on the side to supplement their income when they're in between design projects.
Because writing has a fairly low barrier to entry, it's also highly competitive and doesn't pay as much as some other types of freelancing. A simple article can pay as low as $1.50, but more complex jobs, especially if they need to be very high in quality, can pay significantly more.
There are many different types of writing you can do as a freelancer. Some examples are:
Blog posts and articles
Short reports
Non-fiction e-books
Fiction (books, stories, poetry, etc.)
Different types of work pay different amounts, but technical writing and fiction writing (such as ghostwriting romance books for authors) can pay quite a lot.
Always keep in mind that quality writing is in demand. We know this because Google has deemed it so. Your clients understand that spending time re-writing your work is a waste of their time and money and will not meet their objectives.
Earn Money Working from Home as a Graphic Designer
Design requires more technical ability than writing, but if you have the aptitude for it and experience, you can make good money doing all types of freelance graphic work.
At the basic end of the design spectrum you could create advertising banners and book covers. These require only a graphics program like Photoshop or GIMP, some stock photos, and a decent level of talent.
Also know there are many graphics software on the market that will do most of the work for you… you just need the vision.
At the higher end are projects like posters, as well as projects that require some more technical ability like designing websites and user interfaces for apps and programs.
Here are some ideas for the types of graphics you can create:
Book covers for authors
Advertising banners
Posters and flyers
Websites and blogs
Logos
If you want to get work as a freelance designer, it's extremely important to create a portfolio of your best designs; show your potential clients what you can do.
If you have never done a particular type of work before, create a few samples for your portfolio. For example, create a cover for a book that doesn't exist, or create your own version of the cover of a popular book already published.
You could also offer to do work for people for free in the beginning to build your portfolio. Keep in mind people want to see what you can do before they commit to working with you, free or not.
As with writing, they don't want to waste your time and theirs if they end up not liking what you produce.
Work from Home as a Freelance Artist
If you're a talented artist in any medium, there's a great opportunity for you to earn money with that talent. Gone are the days when the only way an artist could make money was by selling original paintings. These days, artists have a lot of possibilities for earning!
Portraits and caricatures
Other commissions
Book cover art
Children's book illustration
Art for apps and video games
T-shirts, posters, and other items to sell
Prints of artwork (possibly framed for hanging on the wall)
These are just a few ideas of ways you can make money as a freelance artist. There is a nearly endless number of other ways!
Work from Home as Voiceover Artist
Promotional videos are becoming more and more in demand. If you have a good voice and don't have a very thick accent of any kind, you might want to consider doing voiceover work.
Voiceover work is simple and requires very little technical knowledge. As long as you can read well, speak clearly, and perform basic computer functions, you can offer your voice for videos, audiobooks, and other projects.
The only things you'll really need for voiceover work are:
A decent computer
Audio processing software
A good microphone
A good location for recording
You'll need to do your research before offering this service to ensure you are properly equipped. But your asset is your voice so speak up!
Earn Money Working from Home Creating & Editing Videos
Video editing is a more advanced skill that requires more technical knowledge and ability. If you have the talent for it, you can make very good money creating videos and editing those that other people have created.
Video is quickly taking over text and photos as the media of choice online. As stated above, many individuals and companies are using them for a variety of promotional purposes.
Videos can be used for publicity, such as when celebrities post them on Facebook or Instagram. They can be used to promote something specific, such as when a restaurant posts a video of their newest dish and a limited time price promotion. Videos are used in many other ways to publicize, promote, teach, and sell.
Videos don't have to be extremely complex. In fact, they don't necessarily have to contain any video. They could be just slideshows of photos or graphics with text, music, or voiceovers. Sometimes that format is even more effective than traditional videos.
There are many video creation tools available, both free and paid. Because of the rising popularity of videos in marketing, the software developed has become easier to master.
My personal favorite is Instant Video Wizard. If I can make a 2 minute video, I assure you, so can you.
Conclusion
There are many other ways you can make money from home on a freelance basis. Some of them include:
Keyword research
Photo editing
Translation
Photography
Programming and app creation
Selling crafts online
Selling used items online
These are just a few ideas of how you can earn money working from home. What's your greatest talent? What's the thing you enjoy doing most? Chances are you can find a way to make money with it!